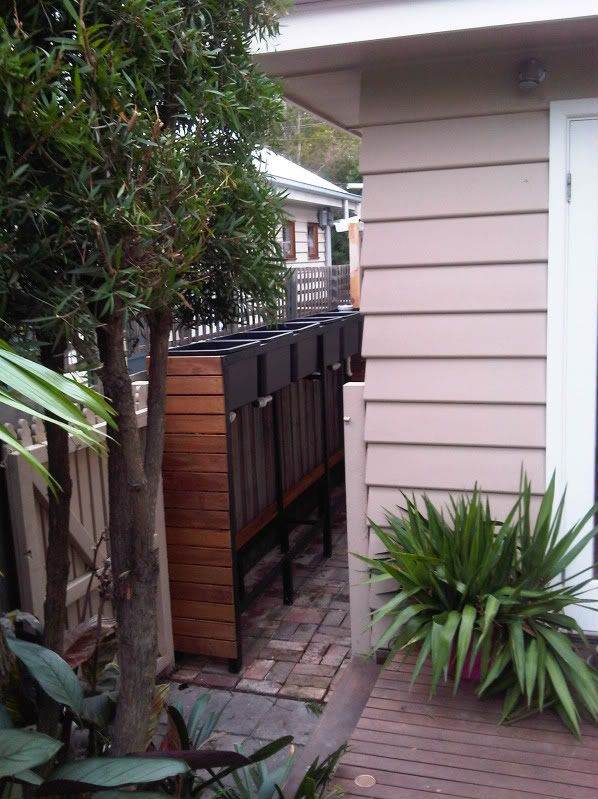 I was browsing over at http://www.aquaponicshq.com/ and came across a thread called 'my slimline aquaponics system'. This is an initial image before he added glass fish tanks and clad the entire system with the same elegant wood. I immediately noticed that he used six bins plumbed together in two sets each connected to a bell siphon. On the other hand, while my system looks pretty industrial and clearly shows its roots in my desire to repurpose and recycle items where I can, his system is elegant and sleek. I found another thread by the same poster which features pictures of his compact chicken coop which he installed over a water storage tank. It also shows the same high level skills of carpentry.
I noodle around with saws and hammers, drills and screwdrivers, but although I've been proud of some of my constructions, usually it is because of a high degree of function rather than elegance of execution.
A few examples of my work are found in my living room. I found kitchen carts with granite tops at a local store at a price that was less than the cost of the granite. I purchased three of them. I converted two of them into matching consoles that hold various items of my home entertainment system. I cut about six inches off the legs, repositioned the bottom shelf and added panels made from matchstick place mats stained dark and mounted on thin sheets of plywood. The fronts drop down for access to projector, speakers, DVD etc. I left the third one tall but cut down the width and length to make a table that sits next to my back door. The drawer holds keys, the top a mail sorting box, and a kitchen sized trashcan fits under the top.
Another project is a TV cabinet that fits in the corner of my living room. The top holds a flat-screen TV and the bottom is home to children's books and toys for when my grandkids visit. I made it out of plywood and piano hinges with oriental hardware ordered from the internet. People have mistaken it for an antique. I've made some nice frames for large pieces of stained glass, but most of my carpentry work is more functional than it is attractive.